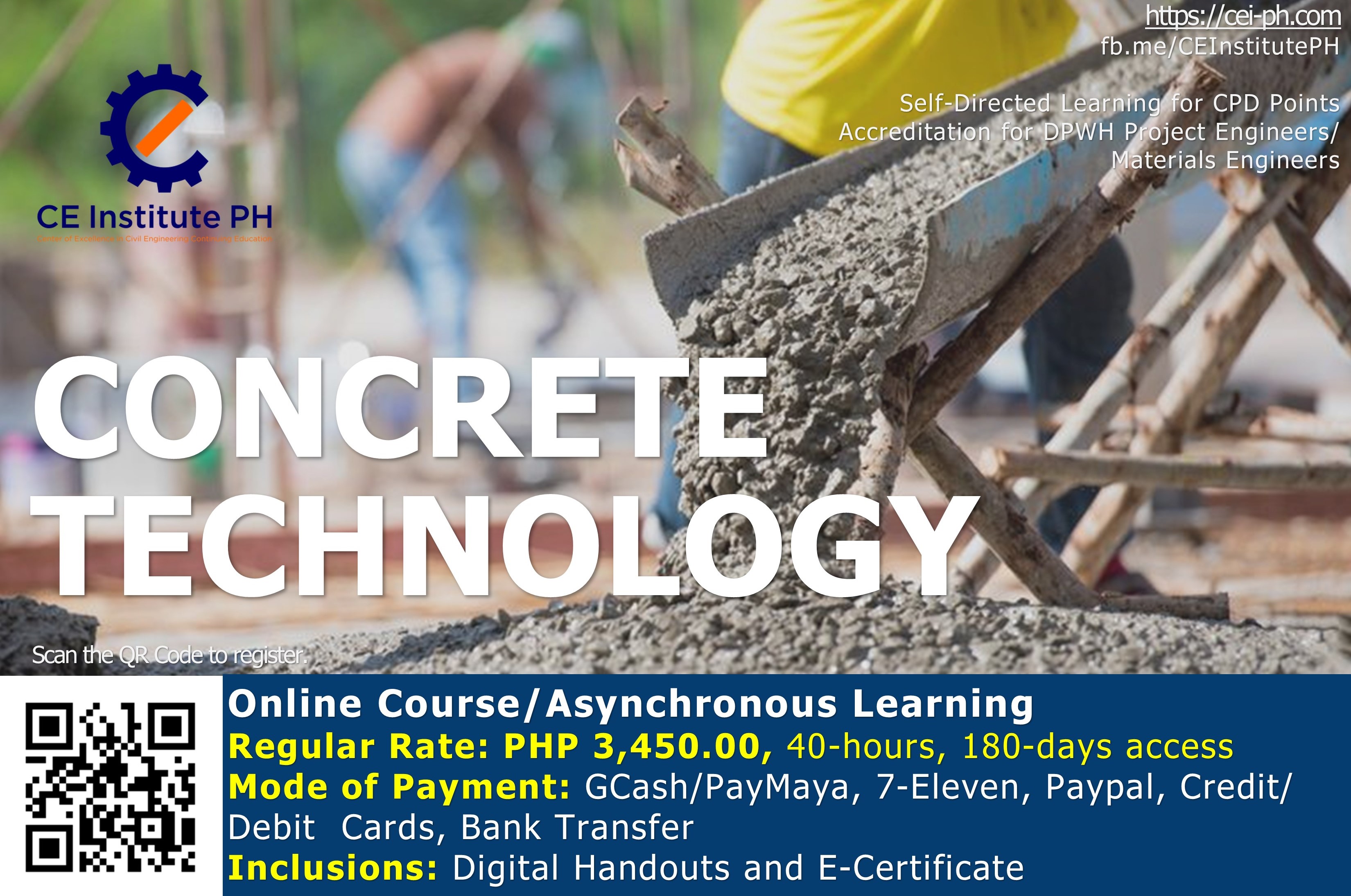 REGISTER NOW! PROMO IS OPEN.
Number of Hours: 40
Number of Lectures: 46 Pre-recorded Videos and 1-Exam
ACCESS:
A participant can complete this online training for three (3) to five (5) days only if continuously and diligently attended. The ACCESS to this course is up to six (6) months or 180 days after enrollment.
ENROLLMENT:
Be sure to read the details here before enrolling to this course. The Process of Enrollment is this:
Click REGISTER NOW!
Proceed to PAYMENT. Send us the proof of payment to [email protected] for our verification.
An email will be sent to you confirming your enrollment.
Click HERE to request for an Official Receipt.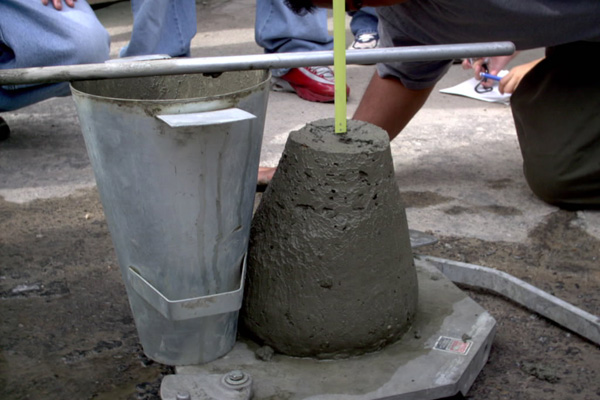 PC Concrete Materials Quality Control
Quality of concrete construction on site can be accomplished in three distinct stages as follow:
Quality control before concrete construction
Quality control during concrete construction
Quality control after construction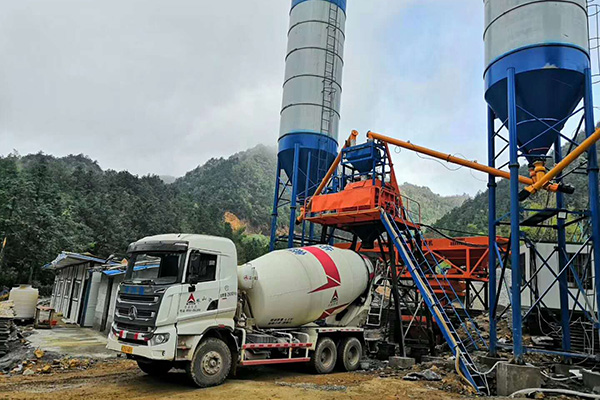 Concrete Mix Design Calculations
Concrete mix design involves a process of preparation in which a mix of ingredients creates the required strength and durability for the concrete structure. Because every ingredient in the mix consists of different properties, it's not an easy task to create a great concrete mix. It is imperative that all ingredients be tested to determine their physical properties and the bearing capacity of the project location.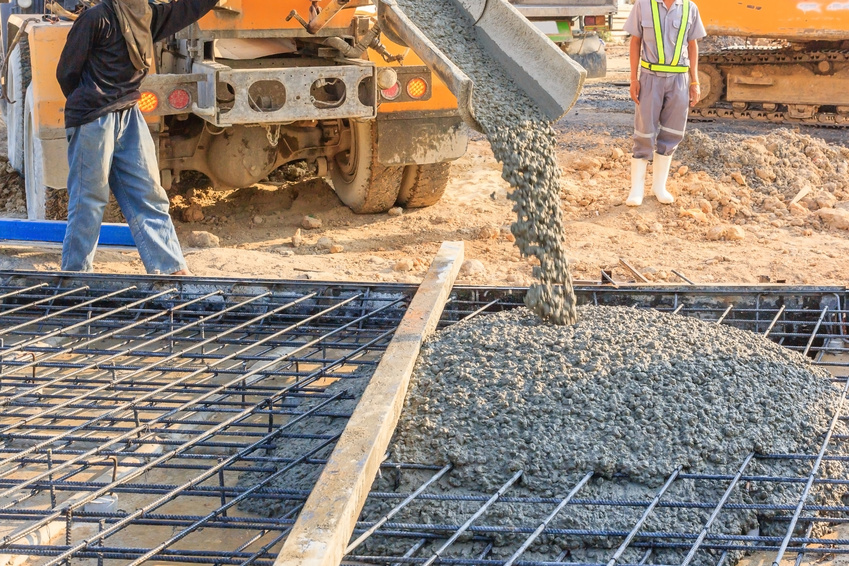 Basic Concrete Construction Supervision
Concrete is the most commonly used man-made material on earth. It is an important construction material used extensively in buildings, bridges, roads and dams. As of October 2019, there are a total of 21,646.10 Kilometers of concrete paved national roads in the Philippines that is 65.56% of the total road network. Civil Engineers play an important role here, and that is how important the knowledge of concrete technology to them.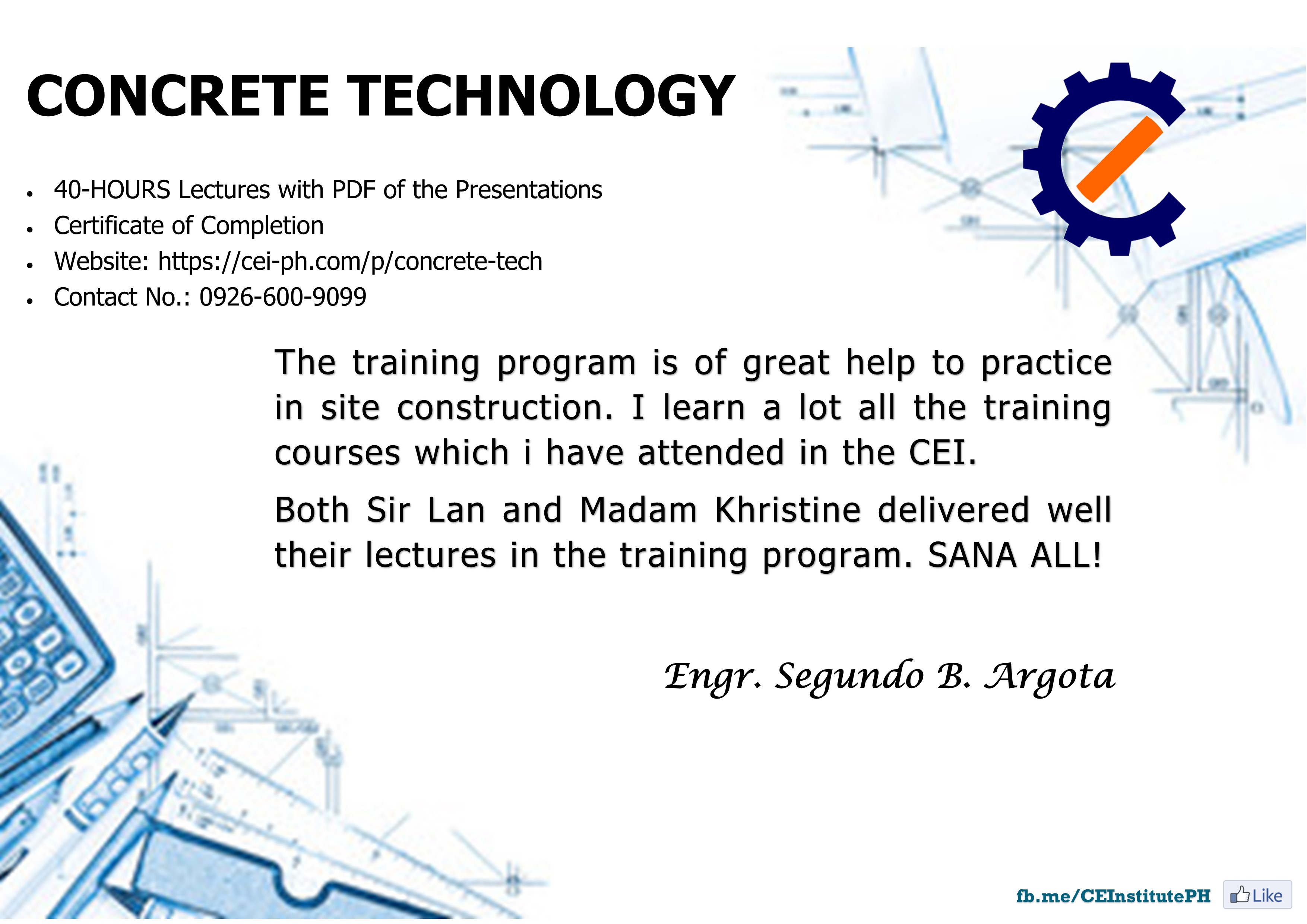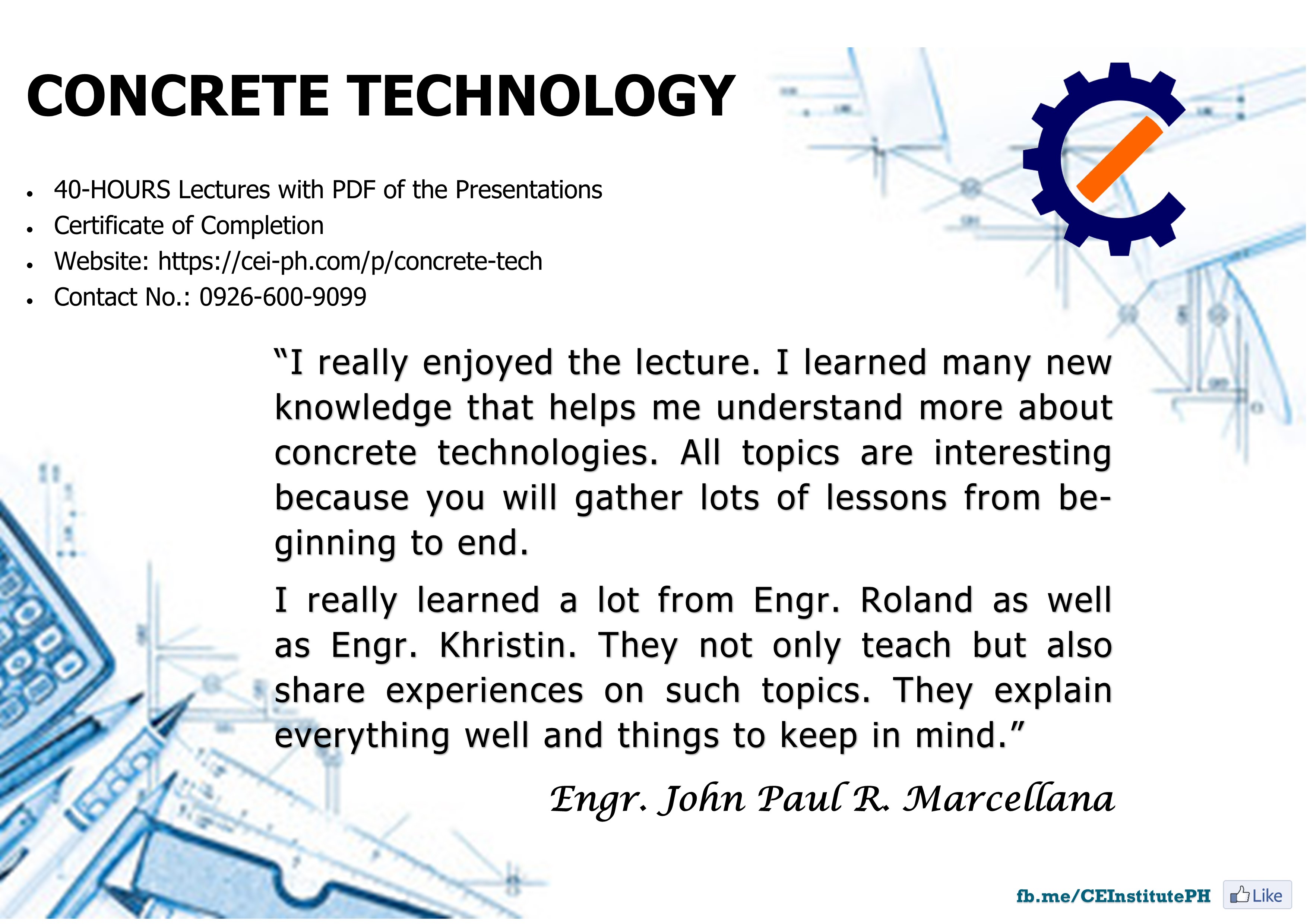 From Engr. John Paul R. Marcellana
RATIONALE:
Portland cement concrete is the most widely used manufactured construction material in the world. The importance of concrete in our daily lives cannot be overstated. It is a fundamental building material to public infrastructure, transportation infrastructure, commercial/public buildings, and residential houses. 
Concrete is the basis of much of civilization's infrastructure and much of its physical development. Twice as much concrete is used throughout the world than all other building materials combined.
A civil engineer or an architect is expected that he knows the the concrete mixture and should be designed through correct sampling and testing of individual material of construction. In this course, you will be able to learn them and the factors to be considered in concrete construction including its basic supervision. We assure you, YOU NEED THIS.
OBJECTIVES:
At the end of this course, the participants/enrollees are expected to be able to:
Explain the design mix, data, criteria, standards, testing procedures, and methodologies for concrete construction; and
Enhance their managerial skills in sampling, testing and project implementation of concrete structure projects.
Conduct basic supervision of concrete roads, buildings, bridges, and slope protection.
METHODOLOGIES:
We are using asynchronous learning which do not occur in the same place at the same time. The lectures are prerecorded and will be available to enrollees for a limited time basis (6-months). The enrollees shall have to watch the first lectures before proceeding to the next ones.
The methodologies to be employed will be lecture-discussion with slide/audio visual presentation. The PDFs are downloadable and advised to be printed prior to every lecture. Intellectual exercise/examination will also be given to gauge the technical learnings acquired by the enrollees. The enrollees are required to pass (50%) the said examination.
PARTICIPANTS
The participants/enrollees to this class shall be civil engineers / civil engineering students, Architects, Engineering Geologists and other disciplines related to the course.
RESOURCE PERSON/S:
Engineers with expertise (with MSCE) on project design, construction methods, materials quality control/assurance implementations, construction supervision and management.
DURATION/VENUE:
The ACCESS to this online course is Six (6)-Months or 180-Days only.
The completion of this course depends on each enrollee's pace and may be scheduled by the enrollees in a regular manner, say every day or every other day.
Skipping ahead or fast-forwarding the lectures is not allowed. If do so, the lecture will NOT be marked as complete.
Once the participant finishes the lectures, he/she is encouraged to take the final examination immediately.
RECOGNITION:
Certificate of Completion/Participation will be given to the participants who will successfully complete the requirements as stated above. The certificate may be used as:
Self-directed learning and/or life long learning and academic track for your need of CPD points.
Application for DPWH Accreditation of Project Engineers as well as Materials Engineers.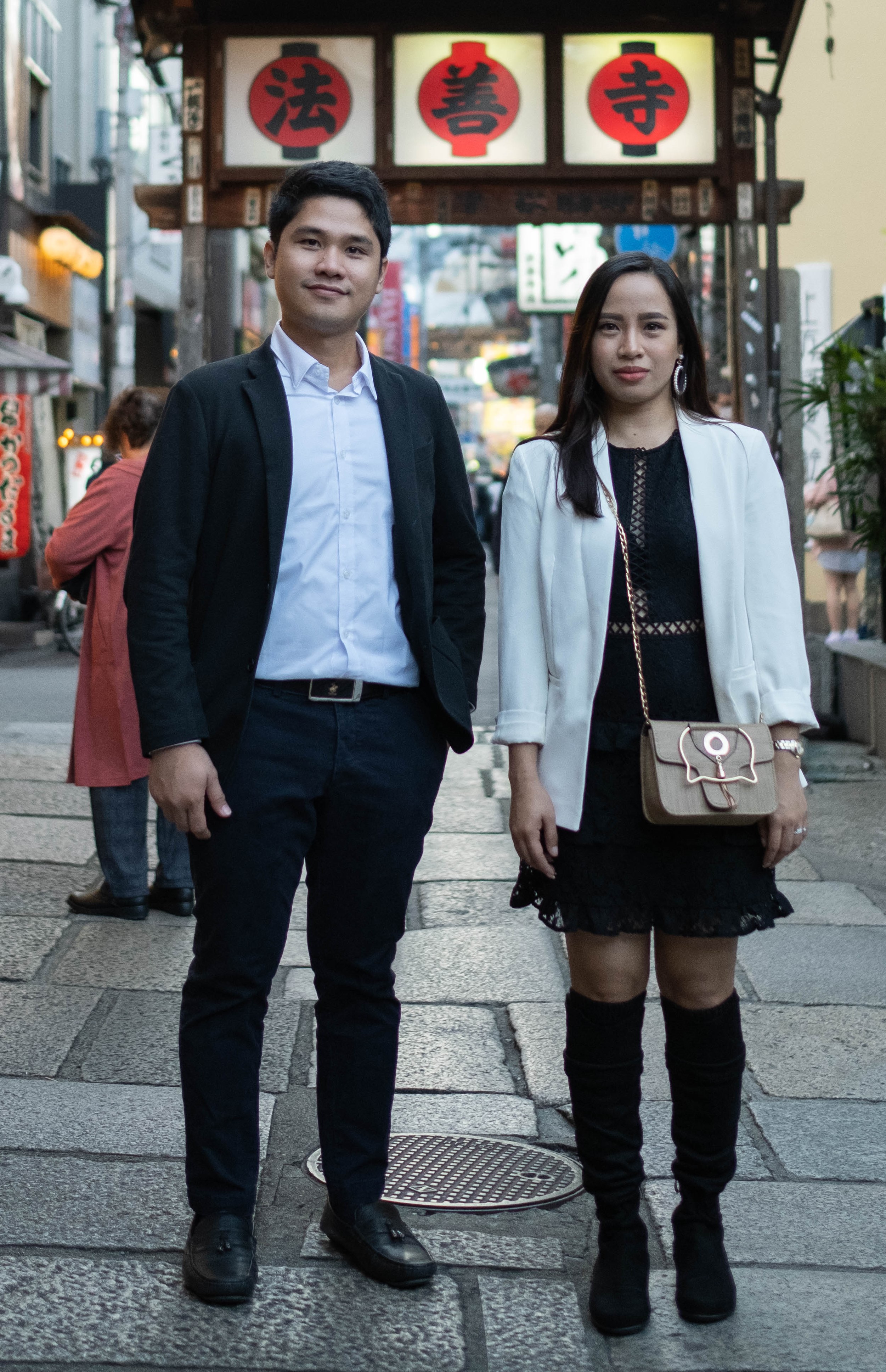 Hi Friends!
Roland (MSCE-G) and Khristin (MSCE-S) are your Special Lecturers for this course.
We will discuss the various techniques in concrete mix design, concrete testing, concrete construction and its Practical Applications.
Concrete technology is developing fast over the past several decades, and increasingly more high-performance concretes are now available in the market. 
The motivation for this course is to introduce existing and new methodologies, new developments, and new innovations in concrete technology. The unique features of this course include the introduction of end use guided research strategy for concrete construction, testing of concrete materials, unification of materials and structures studies, and an emphasize on fundamental exploration of concrete structures, state of art of concrete development, and innovations.
Khristin, as a Structural Engineer, discusses and provides more comprehensive knowledge on concrete technology. Roland, on the other hand, as an expert in Structure Evaluation, discusses the testing of concrete materials, systematic introduction of concrete fracture mechanics, inspection, and nondestructive evaluation for concrete engineering.
See other Featured Trainings