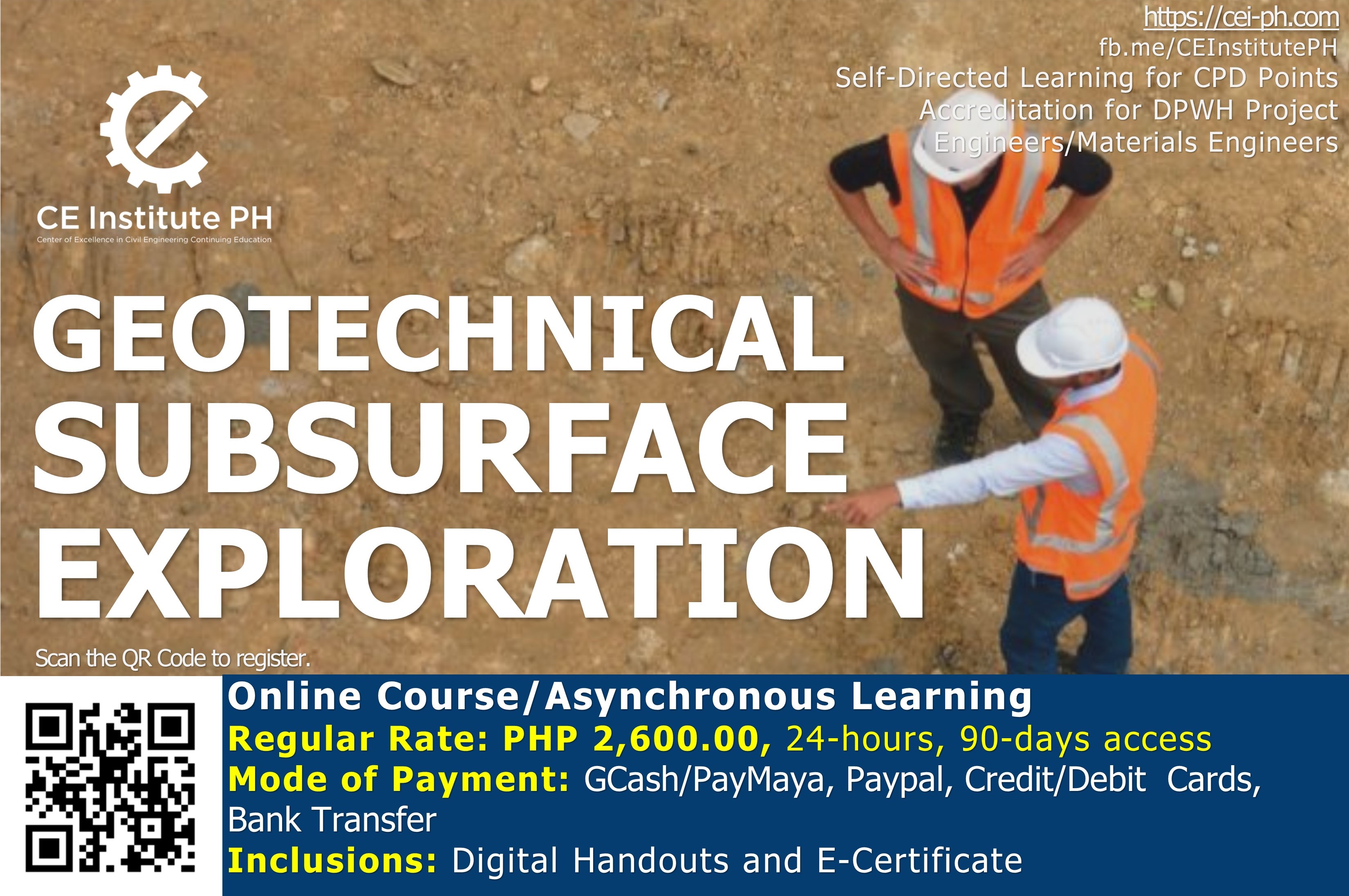 ENROLLMENT IS ON GOING.
PROMO IS OPEN.
Number of Hours: 24
Number of Lectures: 18 Pre-recorded Videos and 1-Exam
ACCESS TO THIS ONLINE TRAINING/COURSE:
Access to this course is up to ninety (90) days after enrollment or three (3) days after completion, whichever comes first.
ENROLLMENT:
Be sure to read the details here before enrolling to this course. The Process of Enrollment is this:
Click REGISTER NOW!
Proceed to PAYMENT. Send us the proof of payment to [email protected] for our verification.
An email will be sent to you confirming your enrollment.
Click HERE to request for an Official Receipt.
RATIONALE
Geotechnical Subsurface Exploration of any proposed project sites is very necessary to be undertaken before the plans and design are prepared and finalized, as part of the preliminary or detailed engineering, in order to ensure a rational, safe and economical design and construction of highways, bridges and buildings. This activity will determine the arrangement of soil strata, engineering properties of the underlying soils (particularly, strength and deformation characteristics and soil bearing capacity), ground water and surface drainage conditions and other pertinent data.
Existing rules and regulations require that soil analysis and boring tests of the project sites should be conducted before undertaking the design, preparing the program of work and cost estimates and the bidding of government infrastructure projects. However, there are instances wherein the implementation of the said rules and regulations are not strictly adhered to, which resulted to the redesigning of the structural foundation and subsequent revisions of the program of work and cost estimates that will incur additional and unwarranted cost of the project. Strict adherence to the rules and regulations will prevent additional expenses by the government and, at the same time, insure the proper compliance of the design and specifications without compromising the safety of the public. The requirement of soil analysis and boring test and strict adherence by the DPWH and other implementing agencies of infrastructure projects are explicitly emphasized in Resolution No. 57 dated 11 November 1993 of the House of Representatives.
In view of the foregoing, a seminar on Geotechnical Subsurface Exploration is now available for engineers and geologists to stress its significance and enhance their technical knowledge and skills on the said undertaking.
OBJECTIVES
At the end of this course, the participants/enrollees are expected to be able to:
Discuss the significance of Geotechnical Subsurface Exploration to ensure a rational, safe and economical design and construction of highways, bridges and buildings;
Plan and conduct/supervise subsurface exploration program;
Analyze and evaluate soil boring log data and prepare subsurface exploration report;
Identify problem in the conduct of subsurface exploration as well as their probable causes and recommend remedial measures/solutions; and
Acquire other and new technologies on subsurface methods.
METHODOLOGIES:
The methodologies to be employed will be lecture-discussion with slide/audio visual presentation. The PDFs are downloadable and advised to be printed. Intellectual exercise/examination will also be given to gauge the technical learnings acquired by the enrollees. The enrollees are required to pass the said examination.
PARTICIPANTS
The participants/enrollees to this class shall be civil engineers / civil engineering students, geologists, architects, and other disciplines related to the course.
RESOURCE PERSON/S:
Engineers with expertise engineering geology and geotechnical engineering, project design, construction methods, materials quality control/assurance implementations, construction supervision and management.
DURATION/VENUE:
This is an online course.
We have uploaded the videos of lectures at the time enrollment. The completion of this course depends on each enrollee's pace. However, we suggest that the enrollee should not take the lectures in one sitting so there would be no information overload. The completion of this course may be scheduled by the enrollees in a regular manner, say every day or every other day.
The access to this course/site is up to ninety (90) days only.
EVALUATION
Post-training surveys/examination and session-reaction evaluation will be administered. An intellectual exercise will be given at the end of the course to gauge its effectiveness.
Once the participant finishes the lectures, he/she is encouraged to take the final examination.
RECOGNITION:
Certificate of Completion/Participation will be given to the participants who will successfully complete the requirements as stated above. The certificate may be used as:
Self-directed learning and/or life long learning and academic track for your need of CPD points.
Application for DPWH Accreditation of Project Engineers as well as Materials Engineers.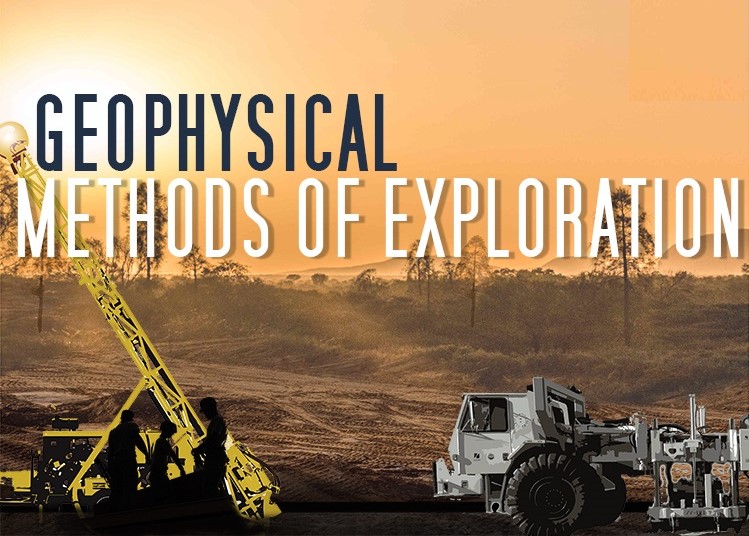 Geophysical Methods of Exploration
Geophysical methods of soil exploration, which are widely used in highway work and in other applications, can be implemented more quickly and less expensively and can cover greater areas more thoroughly. Using values obtained from the Geophysical Soil Exploration Equipment, a specialist can interpret the depth to and thickness of different soil strata and estimate, with the aid of supplemental borings, some of the engineering properties of the subsurface material.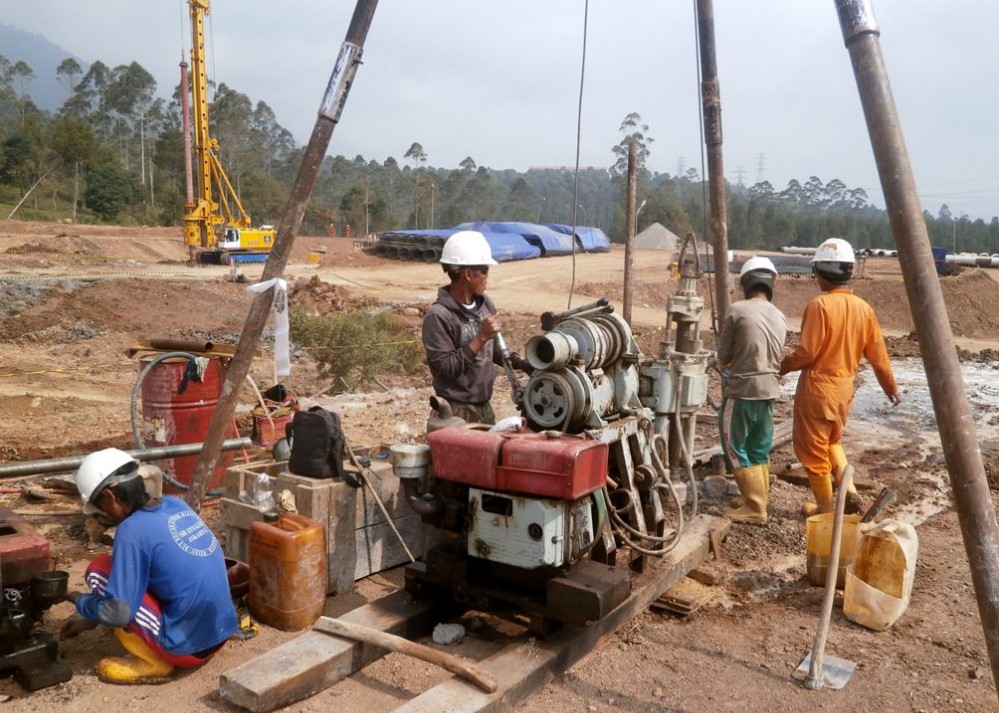 Exploration by Standard Penetration Test
Site investigation or Soil explorations are done for obtaining the information about subsurface conditions at the site of proposed construction. Soil exploration consists of determining the profile of the natural soil deposits at the site, taking the soil samples and determining the engineering properties of soil. The Standard Penetration test (SPT) is a common in situ testing method used for this exploration. It is a simple and inexpensive test to estimate the relative density of soils and approximate shear strength parameters.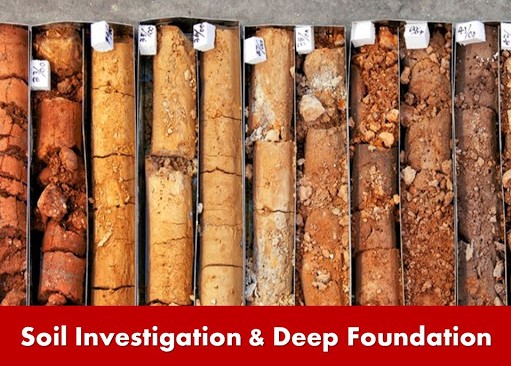 Laboratory Tests and Evaluation Report
The bore log provides us several key pieces of information: (1) The type of soil-cohesive (clays) or non-cohesive (sands and gravels); (2) Water table; (3) Consistency of the soil; (a) Cohesive properties-soft or -hard; (b) Non-Cohesive properties-loose or dense; (c) Permeable (how easy it gives up water). From these three pieces of information, it's usually possible to form a strong idea on how the site must be excavated and whether the soil will stand long enough for the shoring system to be inserted after a cut or if the site requires it to be shored first and then excavated.
I am a licensed Geologist and your Special Lecturer for Engineering Geology and Site Investigation. I specialize in subsurface soil investigations for site suitability and characterization, construction material sources exploration and geological hazard risk assessments.
I am currently pursuing my master's degree in Geology at the University of the Philippines – Diliman with area of interest in geotechnics, geotechnical field testing and concrete petrography.
Example Featured Products